The Forest deutsch S5E018: Wir besorgen die Kletteraxt aus der Höhle
Warning
: SimpleXMLElement::__construct(): Entity: line 1: parser error : Space required after the Public Identifier in
/www/htdocs/w014d470/wautscher.de/wp-content/plugins/amazonsimpleadmin/lib/Asa/Service/Amazon/Request/Abstract.php
on line
65
Warning
: SimpleXMLElement::__construct(): <!DOCTYPE HTML PUBLIC "-//IETF//DTD HTML 2.0//EN"> in
/www/htdocs/w014d470/wautscher.de/wp-content/plugins/amazonsimpleadmin/lib/Asa/Service/Amazon/Request/Abstract.php
on line
65
Warning
: SimpleXMLElement::__construct(): ^ in
/www/htdocs/w014d470/wautscher.de/wp-content/plugins/amazonsimpleadmin/lib/Asa/Service/Amazon/Request/Abstract.php
on line
65
Warning
: SimpleXMLElement::__construct(): Entity: line 1: parser error : SystemLiteral " or ' expected in
/www/htdocs/w014d470/wautscher.de/wp-content/plugins/amazonsimpleadmin/lib/Asa/Service/Amazon/Request/Abstract.php
on line
65
Warning
: SimpleXMLElement::__construct(): <!DOCTYPE HTML PUBLIC "-//IETF//DTD HTML 2.0//EN"> in
/www/htdocs/w014d470/wautscher.de/wp-content/plugins/amazonsimpleadmin/lib/Asa/Service/Amazon/Request/Abstract.php
on line
65
Warning
: SimpleXMLElement::__construct(): ^ in
/www/htdocs/w014d470/wautscher.de/wp-content/plugins/amazonsimpleadmin/lib/Asa/Service/Amazon/Request/Abstract.php
on line
65
Warning
: SimpleXMLElement::__construct(): Entity: line 1: parser error : SYSTEM or PUBLIC, the URI is missing in
/www/htdocs/w014d470/wautscher.de/wp-content/plugins/amazonsimpleadmin/lib/Asa/Service/Amazon/Request/Abstract.php
on line
65
Warning
: SimpleXMLElement::__construct(): <!DOCTYPE HTML PUBLIC "-//IETF//DTD HTML 2.0//EN"> in
/www/htdocs/w014d470/wautscher.de/wp-content/plugins/amazonsimpleadmin/lib/Asa/Service/Amazon/Request/Abstract.php
on line
65
Warning
: SimpleXMLElement::__construct(): ^ in
/www/htdocs/w014d470/wautscher.de/wp-content/plugins/amazonsimpleadmin/lib/Asa/Service/Amazon/Request/Abstract.php
on line
65
Warning
: SimpleXMLElement::__construct(): Entity: line 1: parser error : Space required after the Public Identifier in
/www/htdocs/w014d470/wautscher.de/wp-content/plugins/amazonsimpleadmin/lib/Asa/Service/Amazon/Request/Abstract.php
on line
65
Warning
: SimpleXMLElement::__construct(): <!DOCTYPE HTML PUBLIC "-//IETF//DTD HTML 2.0//EN"> in
/www/htdocs/w014d470/wautscher.de/wp-content/plugins/amazonsimpleadmin/lib/Asa/Service/Amazon/Request/Abstract.php
on line
65
Warning
: SimpleXMLElement::__construct(): ^ in
/www/htdocs/w014d470/wautscher.de/wp-content/plugins/amazonsimpleadmin/lib/Asa/Service/Amazon/Request/Abstract.php
on line
65
Warning
: SimpleXMLElement::__construct(): Entity: line 1: parser error : SystemLiteral " or ' expected in
/www/htdocs/w014d470/wautscher.de/wp-content/plugins/amazonsimpleadmin/lib/Asa/Service/Amazon/Request/Abstract.php
on line
65
Warning
: SimpleXMLElement::__construct(): <!DOCTYPE HTML PUBLIC "-//IETF//DTD HTML 2.0//EN"> in
/www/htdocs/w014d470/wautscher.de/wp-content/plugins/amazonsimpleadmin/lib/Asa/Service/Amazon/Request/Abstract.php
on line
65
Warning
: SimpleXMLElement::__construct(): ^ in
/www/htdocs/w014d470/wautscher.de/wp-content/plugins/amazonsimpleadmin/lib/Asa/Service/Amazon/Request/Abstract.php
on line
65
Warning
: SimpleXMLElement::__construct(): Entity: line 1: parser error : SYSTEM or PUBLIC, the URI is missing in
/www/htdocs/w014d470/wautscher.de/wp-content/plugins/amazonsimpleadmin/lib/Asa/Service/Amazon/Request/Abstract.php
on line
65
Warning
: SimpleXMLElement::__construct(): <!DOCTYPE HTML PUBLIC "-//IETF//DTD HTML 2.0//EN"> in
/www/htdocs/w014d470/wautscher.de/wp-content/plugins/amazonsimpleadmin/lib/Asa/Service/Amazon/Request/Abstract.php
on line
65
Warning
: SimpleXMLElement::__construct(): ^ in
/www/htdocs/w014d470/wautscher.de/wp-content/plugins/amazonsimpleadmin/lib/Asa/Service/Amazon/Request/Abstract.php
on line
65
In der heutigen Folge zu The Forest besorgen wir Uns die Kletteraxt. Dazu schnappen wir etwas Verpflegung zur späteren Nahrungsaufnahme und machen Uns gleich mit Tagesanbruch auf den Weg!
Nach Release gab es nun auch auf der Map einige kleine Änderungen. Früher diente dem Nameless das abgebrochene Cockpit als Orientierung. Da dieses nun aber mit Release ins Schneegebiet verschoben wurde, hangeln wir Uns an den Merkmalen entlang, an die ich mich noch aus den alten Staffeln erinnern kann. Das wären dann z.B. die Zelte der Missionare, am Flussufer! Auf diesem Weg erreichen wir sehr schnell den Eingang der Höhle und das Abenteuer kann losgehen!
Viele Inselbewohner haben wir noch nicht im Modus "Schwer" erledigt bis jetzt. Entsprechend angespannt schreiten wir nun dem Ungewissen entgegen! Die Axt – mit Stoff umwickelt – dient Uns nicht nur als Fackel sondern auch, um die aufsteigende Panik vor einem spontanen Angriff im Inneren leichter zu ertragen 😀
Ihr wisst was ich meine? Den Stumpen in der Bux!

Info vom Zukunfts-Wautsch:
"Für alle die das Abenteuer lieben, können nach dem Einsammeln der Kletteraxt einfach weiter in die Höhle gehen! Man kann über diesen Weg direkt die Kettensäge mitnehmen. Euer alter Wautscher besorgt sich allerdings die Motorsäge im nächsten Clip, über einen anderen Höhlenzugang."
Hier der Link zur Folge 19: Wir finden die Kettensäge
Die ersten Skinny Mutants lassen auch nicht lange auf sich warten! Sie sind eigentlich die einfachsten Gegner in The Forest und im Vergleich zu den anderen Kreauren leicht zu besiegen. Im Schwierigkeitsgrad "Schwer" halten die Skinnies allerdings einiges mehr aus und Unser Nameless ist noch nicht sehr gut durch Knochenrüstung oder Mutantenrüstung geschützt.
Es heißt also … alles entspannt und mit Ruhe angehen! Wie immer eigentlich bei Unseren Let's Plays!
Bei dieser Runde kommen wir alles in allem sehr gut davon. Ein paar normale NPCs und eine kleine Gruppe Mutanten Babys direkt am Lootplatz sind alles, was sich Uns und der Kletteraxt in den Weg stellen!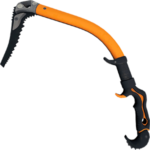 Ein paar Worte zur Kletteraxt / Climbing Axe:
"Du kannst das Tool verwenden um einige spezielle Klippen oder Felsen auf der Map zu besteigen. Innerhalb verschiedener Höhlen gibt es Wände die Du nur mit der Kletteraxt überwinden kannst. Wie in dieser Folge zu sehen war, konnten wir nur mit Hilfe dieses Tools den selben Weg wieder aus der Höhle hinaus gehen.

Sie lässt sich bedingt auch als Waffe einsetzen, ist aber schwächer als die Axt aus dem Flugzeug. Dafür schwingt die Climbing Axe mit dem selben Speed wie das Katana!"
In der nächsten Folge besorgen wir Uns dann, über einen zweiten Zugang zu dieser Höhle UND FEINDFREI, die Kettensäge. Schau doch einfach mal rein, wie sich Unser Nameless dabei anstellt.
Im Folgenden kannst Du Dich durch die Clips navigieren oder direkt zur Playliste auf Youtube durchklicken!
< Zurück | Übersicht | Zur Folge 19 >
Die komplette Playlist Unseres 'Let's Play The Forest deutsch' findest Du
hier auf Youtube
!
---